Many will know
Melissa de la Cruz
as the author of the infamous
Blue Blood Series
.
Late last night I finished her first adult fiction novel, "Witches of East End." This is de la Cruz's first book of her new series, The Beauchamp Family.
I'm pleased to report that the Witches of West End was not what I expected it to be. It was much better! To be honest, I'm getting a bit tired of books that are just about witches, vampires, werewolves, etc. So I was refreshed by this new spin on the same old witch. This story isn't just about witches!
Witches of East End follows the Beauchamp family--a family of two sisters and their morther who are immortals. To be specific, they're goddesses! De la Cruz uses Norse mythology to create a story rich in culture and history. This is so interesting! In this life, the Beauchamp women are witches, but their lives are rich and intense and it makes for a very interesting story!
Although I have not read the author's previous series, Blue Bloods, I am very much intrigued by this new series. Although some other reviewers will say that things weren't falling into place in the beginning, and that there was a middle lul--I don't think that's true.
We meet the three Beauchamp women, Joanna and her daughters Freya and Ingrid. All three women have special gifts. Joanna is a healer and resurrector, Freya is a lover and partier, and Ingrid is a healer and predictor. As we learn more about each woman, we learn more about their personalities, their gifts, their loves and their losses. We learn to love each one for different reasons and our heart breaks when their hearts break. This drawn-out description sets the reader up for some huge enlightening moments.
We learn that these women have gone through so much in their long lifetimes. As the story twists and turns we are shocked again and again. I am very intrigued by this story and very much look forward to seeing it continue!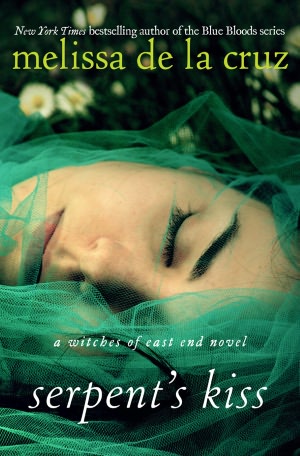 The next book in The Beauchamp Family series, Serpent's Kiss, is due out next June and I don't know about you, but I can't wait! You can preorder it now here!
You can also learn more about all of the characters in The Beauchamp Family series by checking out de la Cruz's Witches 101: a witches of east end primer. Check it out here.
For more thoughts about Witches of East End, check out goodreads.com.
I got my copy at Barnes & Noble.