If you know me at all you know that after reading one amazing book, I had to read the next in the series! So of course, shortly after putting down Divergent I ran out to my local Barnes and Noble and picked up the next book in the Divergent Series by Veronica Roth, Insurgent.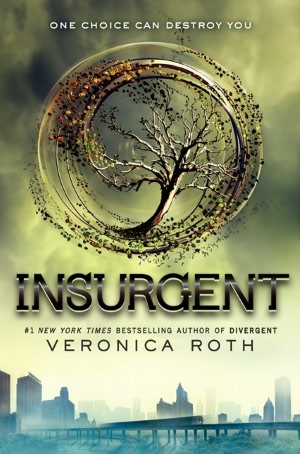 In Insurgent, we continue the story of Tris Prior.
"[She] must continue trying to save those she loves--and herself--while grappling with haunting questions of grief and forgiveness, identity and loyalty, politics and love." (Synopsis adapted from Goodreads.com)
The factions are on the brink of war, and with people she loves in all factions.
Tris has to decide whether faction really is more important than blood.
Even more importantly, she has to decide where she stands in the war and what she's going to do about it.
Insurgent was addicting and amazing and everything I wanted it to be.
It definitely left me wishing the third book of the trilogy was already out!
Until then, we'll have to be consoled with a scene from Four's point of view,
Free Four
.
Alright, I can't give anything away, because I don't want to ruin it.
Just read it already!!!
The next book in the series, which is currently
untitled
, is due out fall of next year. Hopefully we'll get some sneak peeks along the way! Keep your eyes peeled, people!
And don't forget to check out what other readers thought at
Goodreads.com