I've just finished the entire Fifty Shades series by
E.L.James
, which includes Fifty Shades of Grey, Fifty Shades Darker, and Fifty Shades Freed.
I have to say, it was pretty amazing.
I was quite skeptical at first because it is an erotic romance novel.
I've read some erotica and I've read some romance but this was absolutely the best of both worlds all wrapped up with some suspense, fun, and humor.
It was great!
I
f you're not familiar with the series, it's all the rave right now!
It took a week for me to find it at Barnes and Noble because they kept getting sold out.
So once I got my copy of the entire series I was thrilled!
There was, and still is, so much excitement around the series.
Even the news stations have picked it up, with interviews of the author.
Apparently, some people think the series' content is very controversial.
They clearly haven't read very much erotica--it's nothing out of the ordinary for the genre.
The series has been compared to Twilight, but I don't think the comparison is fair!
This series is one of its own class.
It's the best of the romance, erotica, and thriller genres.
It's intoxicating, addicting, and one you'll go back to again and again.
I definitely recommend it for those readers who like romance and a little grime (if you know what I mean)!
It's rumored that Fifty Shades of Gray, the first book in the series, is to be made into a movie by Focus Features.
James is already at work on a new romance series.
Keep your eyes peeled folks, this woman is a force to be reckoned with (no pun intended).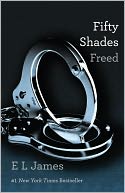 I'd have to say my favorite of the three in the series? The last one, Fifty Shades Freed. Why? Because this book shows how much the two characters, Ana and Christian, have evolved. I love when characters grow. Character-driven fiction is definitely my favorite!
Laters, baby!
Pick up your copy of the series at
Barnes and Noble!
(on nook) or in paperback
here.